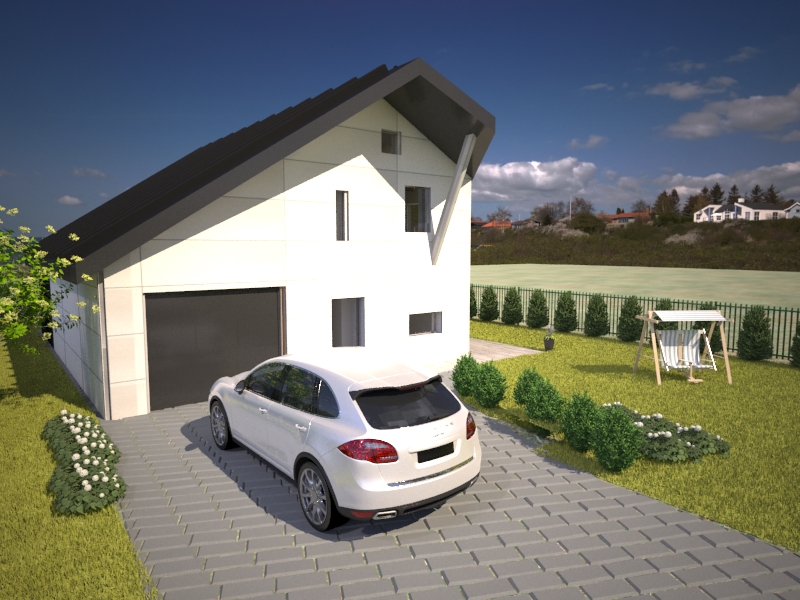 PASSIVE HOUSE #1
Price: 31,315 EUR
A set of panels for AA++ class building.
Wall thermal conductivity coefficient:
U = 0,096 W/m²K.
R = 10,428 m²K/W
Wall panel thickness: 274mm.
Roof panel thickness: 324mm.
Residential area: 128.43 m2. Garage: 38.13 m2.
The building complies with the requirements of a passive house. Windows are mainly oriented towards the southern side, inert materials are used, ductwork ventilation system is installed.
EXPLICATION OF PREMISES ON THE  1ST FLOOR, AREA (M2)
TAMBOUR: 4.28
CORRIDOR: 3.81
BATHROOM: 2.32
KITCHEN: 9.77
LIVING ROOM: 36.92
UTILITY ROOM: 6.93
UTILITY ROOM: 2.06
GARAGE 38.13
TOTAL AREA: 104.22
EXPLICATION OF PREMISES ON THE 2ND FLOOR, AREA (M2)
CORRIDOR: 13.48
BATHROOM: 3.21
CHILDREN`S ROOM: 11.37
CHILDREN`S ROOM: 10.22
BEDROOM WITH CLOSET: 17.53
BATHROOM: 6.53
TOTAL AREA: 62.34